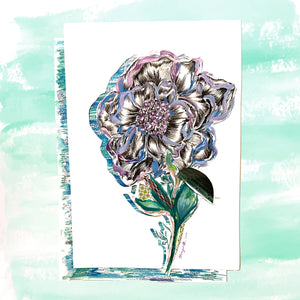 "Berry Blossoms No. 1" (2023) from the Soul Soiree series is a mixed media collage of a flower illustrated in charcoal and painted in hues of soft lilac and blue gouache, layered on collaged paper. 
The Soul Soiree series is a mixed media series of collaged flowers exploring the layers of growth and beauty through a vibrant mix of color and soft mark-making. Inspired by flowers scattered on the sidewalk captured during afternoon walks, each collage expresses a reflection on the beauty of growth.
Each hand embellished canvas print measures 13" x 19" x 0.75"
Medium: Charcoal, Gouache, Watercolor Pastel, Magazine Tear Sheet
Please note that each canvas print is made to order so please allow 2-3 weeks for your order to be shipped after processing.