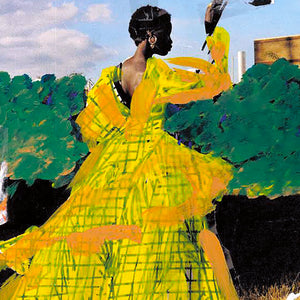 "Dressed in Sunshine" is a mixed media collage a woman in a large yellow dress painted with abstract brushstokes in a garden looking to the sky. 
The Enchanted Garden series explores the beauty of heritage and community through whimsical exploration. In each mixed media collage,  abstract brushstrokes and vibrant color express the importance of honoring one's self, creating a space of love, and inviting a sense of hopeful imagination.
Each hand embellished canvas print measures 8" x 8"x 0.75"
Medium: Magazine Tear Sheet, Marker, Acrylic Paint